Many businesses want to try leveraging Facebook Ads to reach more people. Paying for outreach is the fastest way to grow. However, it is important to know how to create a Facebook ad properly to get the most bang for your buck.
Define Your Goal
Don't just boost a post. First, figure out what you want the ad to achieve. Are you looking for more website traffic? More messages? More engagement on the Business Facebook Page? This will help when creating the ad and knowing exactly what you want it to say and who it will reach.
Go To Facebook Ads Manager
Navigate to Facebook Ads Manager. Then, choose your objective. There are 15 objectives to choose from. These are bundled into three categories: Awareness, Consideration, and Conversion.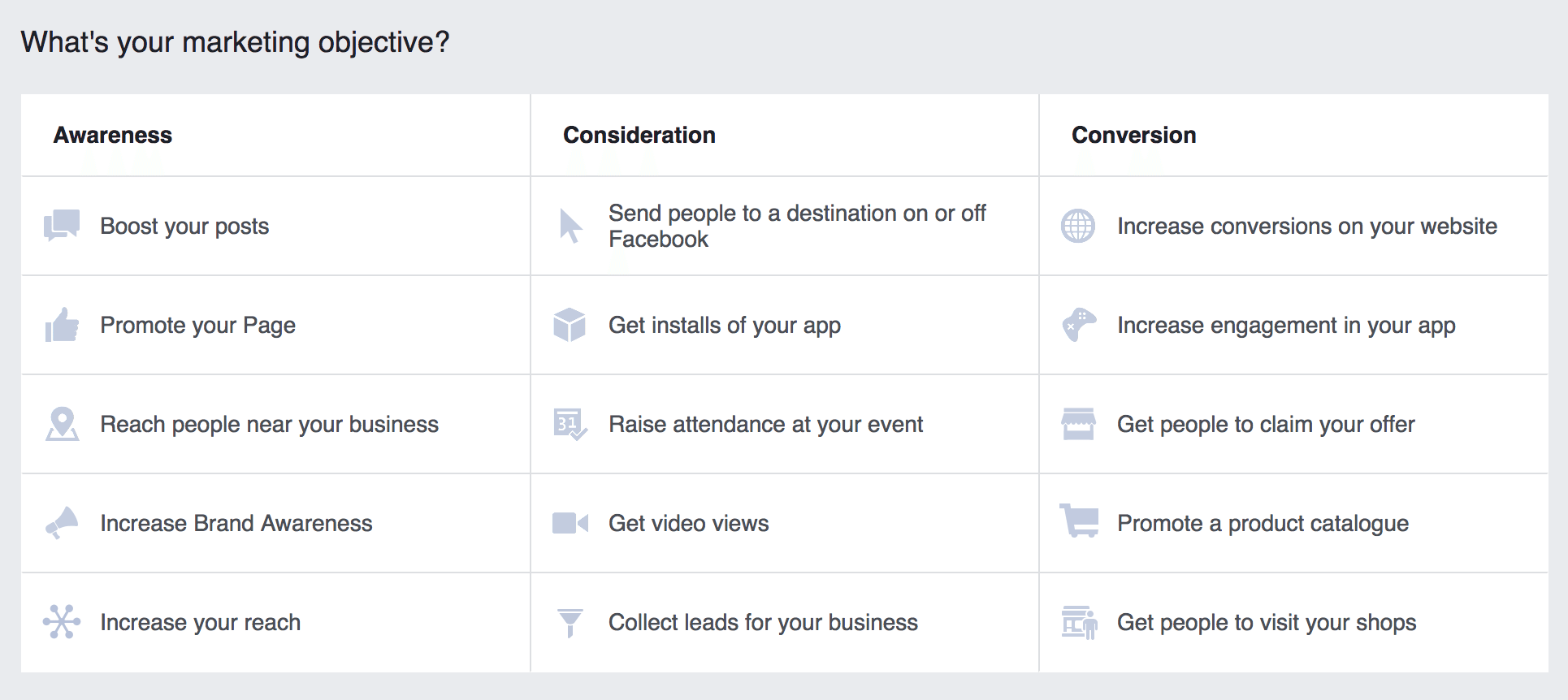 Awareness
Awareness usually helps generate interest in a product or service. This section is better for smaller budgets.
Boost your posts
Promote your page
Reach people near your business
Increase Brand Awareness
Increase your reach
Consideration
If you want someone to get more information about your business, consideration is the way to go.
Send people to a destination on or off Facebook
Get installs of your app
Raise attendance at your event
Get video views
Collect leads for your business
Conversion
Selling something? Conversations help get people to buy your product.
Increase conversions on your website
Increase engagement in your app
Get people to claim your offer
Promote a product or catalog
Get people to visit your shops
Audience & Budget
After figuring out the campaign's objective, the next step is defining the audience. This step is crucial and determine if your ad is successful or not.
Location, starting with a country, state, city, zip code, or address, and refining even further with a mile radius
Age
Gender
Languages
Interests – Facebook looks at a person's interests, activity, the Pages they like, and closely related topics
Behaviors – Things like purchase behavior and intent, as well as device usage
Budget
After selecting the audience, now decide how much to spend. A daily limit is the average spent per day while the lifetime is the maximum cost of the entire ad.
Create Ad
Now that you know your audience, create an ad you know they will want to read about. This includes images (or video), headline, body text, and where on Facebook your ad should be displayed. The ad can be an existing post or something completely new.
First, select the format. These change depending on the objective but can be:
Carousel: Create an advert with 2 or more scrollable images or videos
Single image: Create up to 6 variations of your advert using 1 image
Single video: Create an advert with one video
Slideshow: Create a looping video advert with up to 10 images
Canvas: Tell a more immersive story by combining images and videos
Image specs:
Recommended image size: 1200 x 628 pixels
Image ratio: 1.91:1
To maximize advert delivery, use an image that contains little or no overlaid text.
Video specs:
Format: .MOV or .MP4 files
Resolution: at least 720p
File size: 2.3 GB max.
Recommended aspect ratio: widescreen (16:9)
Facebook: 60 minutes max.
Instagram: 60 seconds max.
Ad Placements
Facebook allows you to pick where your advertisement will be displayed. This includes Facebook's mobile News Feed, desktop News Feed, and right column. You may also create ads to appear on Instagram.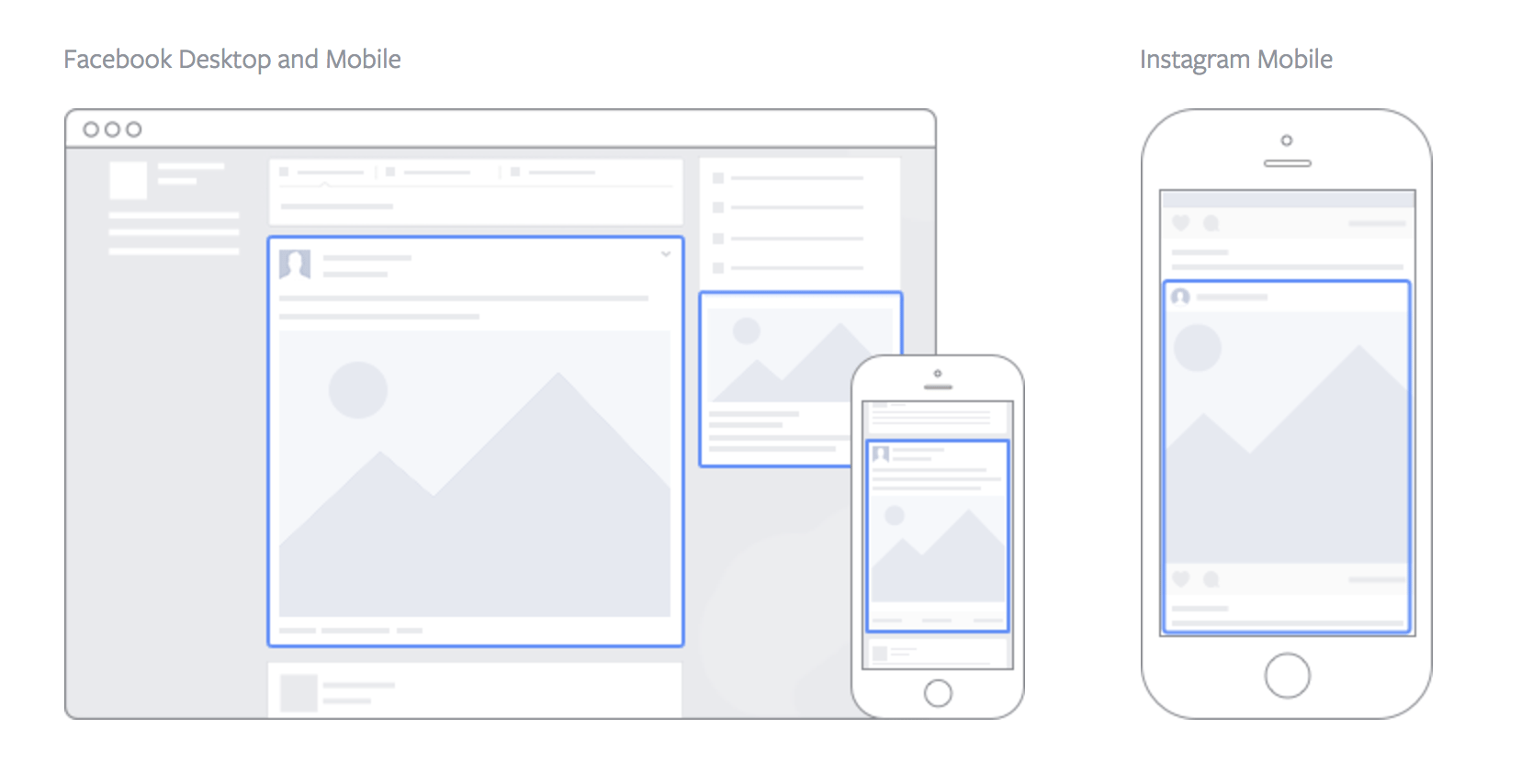 Facebook recommends using the default placements for the objective you chose. These are the suggestions:
Increase brand awareness campaigns (including Reach & Frequency buying): Facebook and Instagram
Boost your posts (including Reach & Frequency buying): Facebook and Instagram
Get video views (including Reach & Frequency buying): Facebook and Instagram
Get installs of your app: Facebook and Instagram
Increase engagement in your app: Facebook
Promote a product catalog: Facebook
Increase conversions on your website: Facebook
Send people to your website: Facebook
More Questions on How to Create a Facebook Ad?
Need more help on how to create a Facebook Ad? You can check out this guide from Facebook. Or you can book an appointment with us for more assistance.